Happy December Solver users! We at Solver appreciate you so much that we have decided to get you some early holiday presents this year in the form of some highly requested improvements and features! This release includes several bug fixes and new features to your favorite reporting and planning tools. We hope that you have had a great year with us and cannot wait to show you what is in store for 2023!
As always, please reach out to us regarding any and all issues you may encounter or to provide us with much-appreciated feedback that we can use to improve our product. You may contact Solver Support (at support.solverglobal.com) with any concerns.
Thank you for spending 2022 with us and we look forward to seeing you again next year!
Note: We have identified a possible issue with this month's release in exporting certain reports to Excel. To avoid any breakages in the application, we have decided to roll back a few of the updates that were previously announced. The features no longer available are the addition of thumbnails to preview graphs on the reporting main screen and the fix to enable the center across selection feature in Excel. If you have any questions or encounter any additional problems, please contact support.
New Features
Planning
Added functionality to the application to allow for the application to remember whether users were viewing in card or list mode when leaving the application.
Reporting
Added the ability for the application to generate thumbnails to preview reports with graphs and charts. Note: This feature has been removed from this release.
Added functionality to Report and Input Templates to display the name of the user who last modified the template. This can be found as a column in the list view and on the back of the card in the card view. Existing templates will not be affected by this change until they are modified.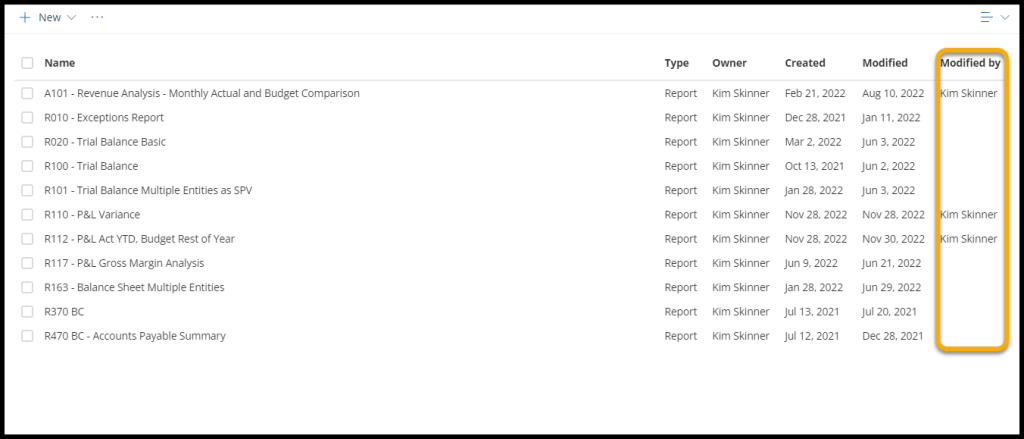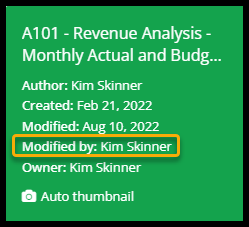 Data Warehouse
Added a step to the Quick Start wizard to allow users to choose the budget they want to use for the integration.
Added an error message when attempting to use a duplicate name for a report.
Added new indicators to show which tab is currently selected.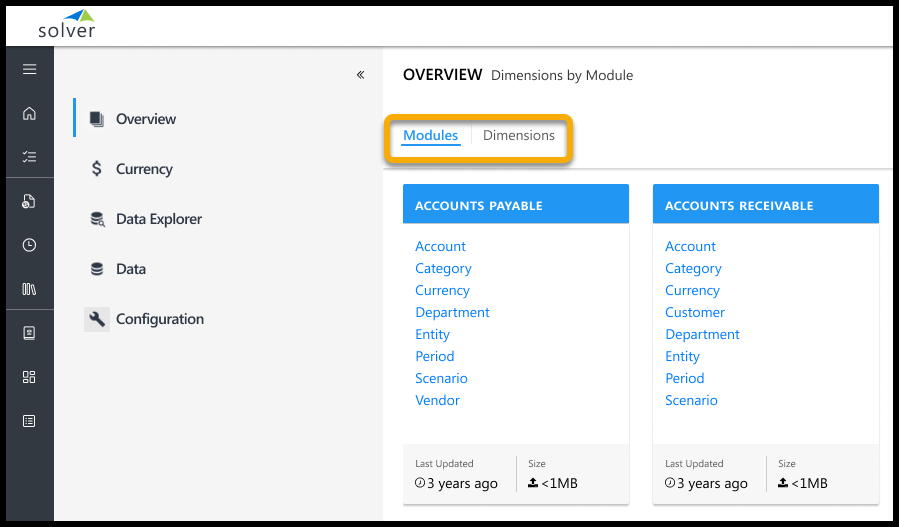 Administration
Translations are now prioritized when loading Home and Report Designer pages.
Bug Fixes

Planning
Fixes an issue where assignments were unable to be opened in card view.
Fixes an issue where using filters in Archive would remove the selected sort order.
Fixes an issue where the Select All button would select all items in a user's archive list regardless of any filters used or search results being displayed.
Fixes an issue in the application where filters were not populating as they were in Excel. Filters will now function as expected on reporting and input templates. Note: for input templates, users may need to disable the protect non-input cells setting in Report Designer (as seen below).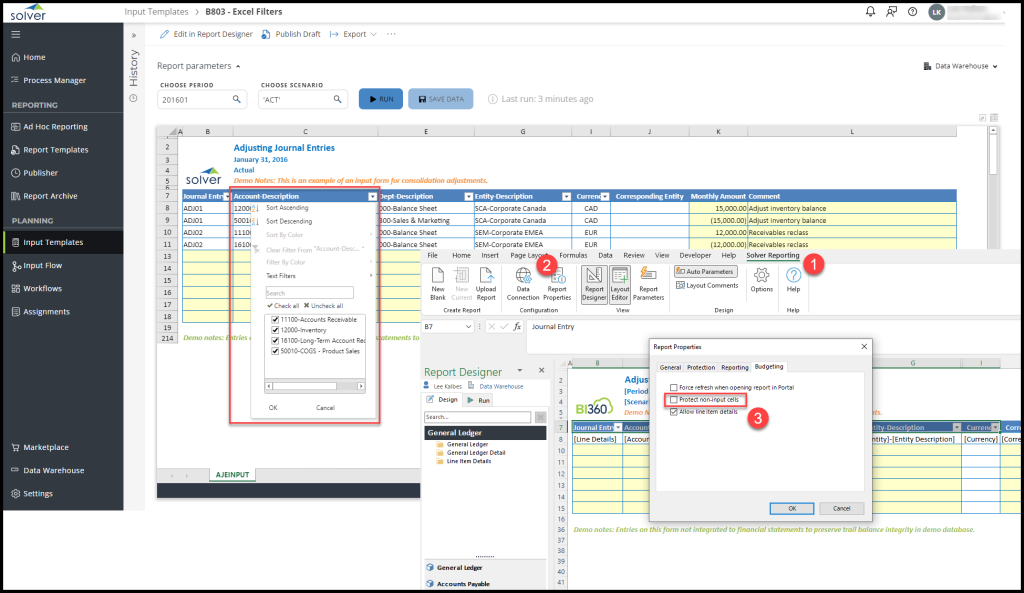 Updated tooltip for security context in Publisher.

Reporting
Fixes an issue where templates were unable to be selected when in card view.
Fixes an issue where sorting choices were being removed when switching between pivot mode and normal mode in Ad-Hoc.
Fixes an issue where pasting a percentage into a template would result in an error when trying to save the edited template.
Fixes an issue in Excel where the center across selection tool was not properly aligning headings to the center of the column. However, there is still an issue when using the merge and center tool in Excel that causes this to fail. Note: This feature has been removed from this release.
Fixes an issue where shared report packages not owned by the user were able to be edited in Report Designer.
Fixes an issue where the period filter was being re-added after removing it from a report in Ad- Hoc.
Fixes an issue where templates were unable to be selected when in card view.
Data Warehouse
Fixes an issue where rearranging the order of the steps within a job would not retain the proper order as selected by the user.
Improved error message for D365 BC when a period parameter was missing for the integration.
Fixes an issue where users were unable to complete a Quick Start integration if a module that was selected to be included within the integration was already used in a previous Quick Start.
Fixes an issue where copying and pasting cell values into new rows would result in a duplicate row title.
Administration
Fixes an issue in the cloud version of the application where the login screen would not properly load for Chrome users due to updating Chrome to version 108. This will be an ongoing issue for Private Host users and will be addressed in the next update.
Visiting Data Connection will no longer replace the names of the hybrid integrations under Administration.
Stay tuned for more Solver updates in the future. For any issues, contact Solver Support at: support.solverglobal.com