---
We have another exciting round of updates to Solver Cloud. This months release includes updates to Ad Hoc reporting and Report Templates.
New Features
Process Manager
Breadcrumb navigation has been added
Reporting
Ad Hoc reports can now be shared and marked as Favorite. A shared Ad Hoc report will be visible to all users in the tenant.
Ad Hoc reports can be filtered by All, My Reports, Shared and Favorites
Ad Hoc reports will keep their formatting upon export. Groupings do not export.

Data Warehouse
The Connector Marketplace will show installed connectors by default
The Sage Intacct connector now supports Warehouse, Contract and Task
QuickStart for Sage Intacct now supports Task as part of the Project Dimension Load (Project – Task)
Fixes
Reporting
Fixes situation where Ad Hoc filters do not work if a label contains a comma
Fixes Ad Hoc reports automatic refresh when a filter is added
Fixes Report Template exports that unintentionally include hidden sheets. Existing reports will need to be run to trigger the change.
Fixes an issue where large reporting groupings (~60k) can result in incorrect data results
Planning
Workflow configuration added to allow Reviewers and Approvers to save data. The workflow creator can choose whether or not to allow the Reviewers and Approvers to save data.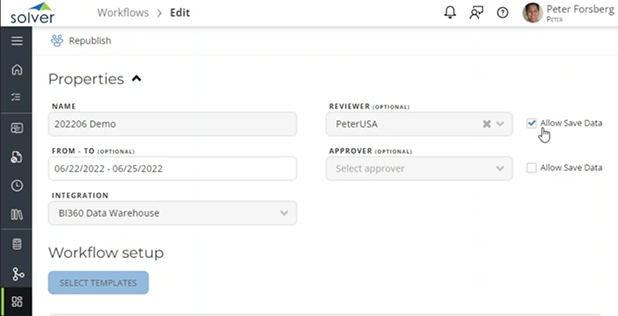 Data Warehouse
Integrations do not load mappings to Alias and Active attributes
Jobs with a schedule can now be edited
Task Name is not lost when user is configuring an integration
Edit button is no longer hidden by long Target Names
Administration
Home screen better adjusts to browser size
Role names are now sorted alphabetically everywhere